In mid-May MS Fjorgyn was fully equiped and finalized at the yard, Oma Baatbyggeri AS.
The Directorate of Fisheries`new vessel is now undergoing testing before the vessel is formally handed over.
Powered by BOS Power
The vessel is powered by hybrid propulsion where BOS Power has delivered an IMO Tier III certified system, consisiting of 4 x MTU 10V 2000 M72 engines, each with an output of
900 kW @ 2250rpm and SCR aftertreatment systems.
After several months of testing, MS Fjorgyn will enter ordinary operational service along the Norwegian coastline. MS Fjorgyn, named after the mother of the God Thor in Norse mythology, will be part of the Norwegian Directorate of Fisheries` Maritime Serivce. Which has the entire coast and The Norwegian Sea as its field of work.
Variety of tasks with modern equipment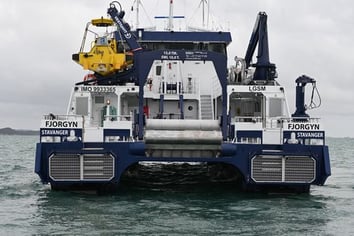 The 40-meter-long vessel, with a top speed of over 32knots, is designed to perform a variety of tasks, such as fishing controls, retrieval of lost fishing gear and costal data collection.
It is equipped with some of the most modern equipment available, such as hybrid propulsion, both air and underwater drones, infrared cameras for efficient searches, and there is a well-equipped laboratory on board that will be used by both the Directorate of Fisheries' own people and various guest researchers.
We have a long-standing relationship with both the shipyard, Oma Baatbyggeri, and the vessel operator, Norled and I`m delighted that we have continued our successful collaboration.

The vessel has been well received and we are now looking forward to seeing the vessel in operation along the Norwegian coastline.
BOS Power IMO Tier III
The BOS power IMO Tier III system is based on the market leading MTU Series 2000 engine, rated for fast moving-vessels with high load factors offering low fuel consumption. The system is a light-weight and compact solution, with an excellent power-to-weight ratio. Both the engine and the aftertreatment system is based on proven technology and has been successfully installed in vessels all over the world. The modular solution makes it adjustable to any engine room, allowing for maximum utilization of engine room space.
Read more about BOS Power IMO Tier III solutions